Beau Street Hoard to be taken on tour of region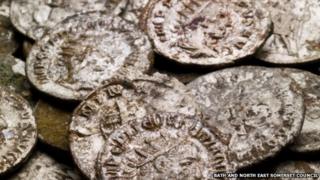 A hoard of nearly 18,000 silver Roman coins is to be taken on tour to help people see the "amazing" find, Bath and North East Somerset Council has said.
The Beau Street Hoard was unearthed by archaeologists in Bath in 2007 and is thought to be the fifth largest find of its kind in the UK.
Now, the coins - some of which date back as far as 32BC - will be touring the region this autumn.
Venues in Combe Hay, Weston-super-Mare, Southstoke and Priston will be visited.
Liberal Democrat councillor Ben Stevens, cabinet member for sustainable development, said: "This amazing Roman find is something [we are] keen to make sure as many people as possible can learn from and enjoy.
"Thanks to the efforts of our staff and the Heritage Lottery Fund this roadshow is just one opportunity to discover the hoard - and there will be many more opportunities in the future."
'Mini political broadcasts'
The hoard was excavated by archaeologists on the site of the new Gainsborough Hotel in Beau Street, Bath, in 2007.
The Roman coins span the period from 32BC to 274AD and were found in eight separate money bags, which were fused together.
In March 2014, the council was awarded a grant of £372,500 from the Heritage Lottery Fund to purchase the hoard.
From January 2015, it will be on permanent public display in a new interactive exhibit at The Roman Baths.
Susan Fox, collections manager at the council, said the images on the coins are "fascinating".
"They were the easiest way the Emperor had of communicating with his citizens, and therefore represent thousands of mini political broadcasts," she added.