Minehead Blue Anchor Hotel bid to stop cliff fall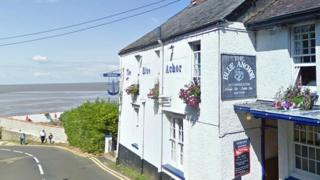 Plans to pin a cliff to stop a hotel falling into the sea are to be re-submitted to the Environment Agency.
West Somerset Councillors have agreed to re-bid for £570,000 to secure the cliff face and extend the sea wall near the Blue Anchor Hotel, in Minehead.
A funding bid earlier this year was rejected by the agency.
According to Simon Strom, landlord of the Blue Anchor Hotel, the property has lost 4m (13 ft) of garden in three months.
He claims, if the cliff is not shored up the hotel will fall into the sea.
'Just one hotel'
In January, the council bid for £570,000 of Environment Agency funding but it was rejected because of issues with the application.
Councillor Anthony Trollope-Bellew said employing technical consultants at a cost of £40,000 to deal with the issues would help the application, but the council "can't afford it".
"We've already put £11,500 into this bid but even if we spent the £40,000 there was no guarantee that it would be successful," he said.
"This is just for one hotel. We don't want it to disappear into the sea but it is for one hotel and £40,000 for West Somerset Council and the people of west Somerset is a lot of money."