Dennis France inquest: Car engine 'flew through air' after crash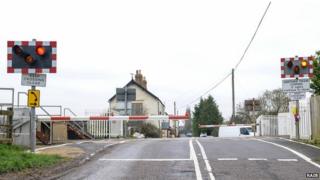 A car's engine was ripped out and flew through the air as the vehicle was struck by a train at 100mph (160km/h), an inquest has heard.
Dennis France, 65, died when his car was hit by the Exeter to London train at Athelney crossing, near Taunton, in March 2013.
Mr France "rolled back" and drove over the crossing having waited between 30 and 60 seconds, the inquest heard.
A previous report said Mr France may have thought the crossing had failed.
Engineering work had affected the timing sequence of the level crossing which was regularly used by Mr France.
The driver of the train told the inquest in Taunton that "he couldn't believe what had happened".
William Ashton said: "There was a very loud bang. I was immediately in shock."
'Eerily quiet'
He added he had not seen if anyone was inside the car and was also worried the train, which travelled three-quarters-of-a-mile following the impact, would derail.
Another witness, a cyclist, told the coroner she had been at the barrier earlier that morning. She said the barrier was down and felt she had been waiting for between five and 10 minutes.
Gemma Miller said: "I walked up my bike and round the barrier [and] looked both ways, it was eerily quiet."
She added that she felt the crossing was safer with a bike as she could see and hear more clearly than being in a car.
Mr France had worked as a security guard for Debenhams in Taunton for 23 years, and was due to retire the following week.
One of Mr France's friends, Alison Chedham described him as "reliable, supportive, kind and lots of fun".
The inquest at Taunton continues.