The Bishop of Taunton announces his retirement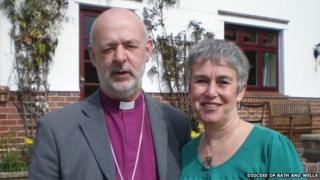 The Bishop of Taunton has announced he is to retire next year after eight years in the post.
The Right Reverend Peter Maurice said he will be standing down at the end of April, just after his 64th birthday.
In a statement issued by the Diocese of Bath and Wells, Bishop Peter said being able to spend more time with his wife "will enrich us both".
A diocese spokeswoman said a successor will be appointed by the Bishop of Bath and Wells in the coming months.
Bishop Peter, who was previously the Archdeacon of Wells, said: "My time in the diocese has been immensely rewarding, both as Archdeacon of Wells and the last eight years as Bishop of Taunton.
"I have felt truly challenged and fulfilled."
The Bishop of Bath and Wells, The Right Reverend Peter Hancock, said: "Since I arrived in the diocese Peter has been a wonderful colleague and friend, and I know that many people across the diocese have valued his pastoral care, guidance and support."