Somerset pigeon flight commemorates WW1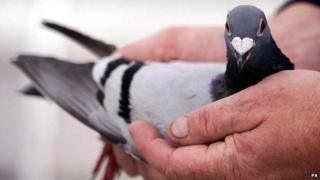 Hundreds of pigeons have flown 265 miles (426km) from Belgium to Somerset for the centenary of World War One.
Some 385 birds were released from the Cloth Hall war museum in Ypres at 07:00 BST and the first completed the "flight of remembrance" at 12:26 BST.
Pigeons were used to carry messages during the war.
Organisers Terry and Jane Williams, who keep the birds at home in Pilton, said they were "extremely proud" to be using their pigeons in the commemorations.
They want the event to recognise the vital role played by pigeons during the war.
According to the The Royal Pigeon Racing Association, the earliest reference to pigeons being used as messengers was from Egyptian King Ramesses III, in about 1200 BC.
In the early 1900s, pigeon racing "became a sport of the masses" said the association, and the birds were later used as messengers during World War 1 and World War 2.