River dredging on the Parrett and Tone '60% complete'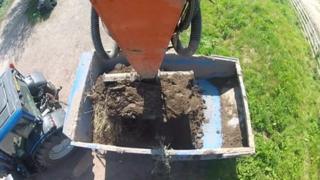 About 60% of the work to dredge the rivers Parrett and Tone on the Somerset Levels has been completed, the Environment Agency has said.
Earlier this year there was criticism from people living in the area who were concerned work was moving too slowly.
Craig Woolhouse, from the agency, said it had made good progress since the work started in March.
He said its intention was to return the rivers to the state they were in during the 1960s.
More than 80,000 cubic metres of silt has been removed from the two rivers at Burrowbridge, largely washed in from the the Severn estuary.
Much of this silt has been given to local farmers to spread on their land.
On average the river channels have been made a third wider so there is a greater cross sectional area for the water to pass through.
That keeps more water in the rivers and stops it from spilling into areas that flooded earlier this year.
Large parts of the Somerset Levels spent much of the winter of 2013-14 under water.
Villages were isolated, homes evacuated and the farming community in disarray amid relentless rain.