Wells Cathedral tours to resume after woman's fall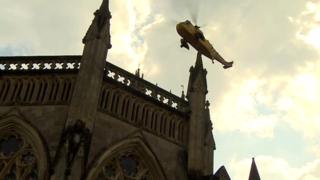 Tours of some of the highest parts of Wells Cathedral will resume months after a woman fell 20ft (6m).
Cathedral chief executive Dr Paul Richards said the fall in April had been a "very traumatic event" but was "keen to look to the future".
A recent Mendip District Council investigation found no breach of health and safety rules.
It made a number of recommendations, including improving guard rails and reviewing tour procedures.
"We understand and accept what Mendip [District Council] has said," added Mr Richards.
"Actually we did our own internal review with the help of an internal advisor and we're all completely aligned with what we want to do."
Winched by helicopter
He said the council had found the cathedral's basic procedures were "sound" but said officials wanted to "go the extra mile to give our visitors even more confidence".
Mr Richards said the tours would resume but only when it had "completed the action plan" which had come out of the review.
The 68-year-old woman had been taking part in a tour of the building's towers when she fell and became trapped in a void between two walls in the bell tower.
She had to be winched by RAF rescue helicopter from 150ft (45m) up after she fell. She was trapped for three hours and suffered hip, arm and leg injuries.