Taunton Deane councillors vote to sell headquarters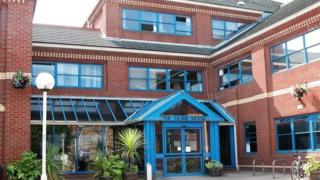 Taunton Deane councillors have voted in favour of selling their headquarters.
The proposal to relocate from Deane House to rented premises at Somerset County Council was rejected at a previous meeting in July by a single vote.
A slightly amended proposal was put before councillors on Tuesday and voted through by 29 votes to 23.
Conservative and Labour councillors were in favour, the Liberal Democrats and an independent against.
The Conservative leader of the borough council, John Williams, who says Deane House is too big and too old, denied putting the matter to the vote until he got what he wanted.
'Vast amount of rent'
Mr Williams said he had taken account of members' concerns and the latest proposal gave "an absolute clear reassurance we are not losing staff to West Somerset House, and there's clarity on the car parking and just generally the facts and savings".
"If we don't save money on back office service, where are we going to save it?"
Simon Coles, leader of the council's Liberal Democrats, said he was pleased to have clarity on staff not being transferred to Williton.
But he said: "We are opposing it because we are being asked to find a vast amount of money as rent and we are not paying rent at the moment.
"We are the only district in Somerset that will become tenants, all the other districts have managed to persuade Somerset County Council to join them in their offices and collect a rent from Somerset.
"The Liberal Democrat answer is to do a limited amount of work right now [on Deane House] until we know what's going to happen after the 2015 election, because there will be massive changes, I believe, to local government then."