Thorney flood protection work due to start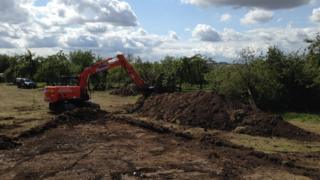 Work has started on an earth embankment to help protect a village on the Somerset Levels from flooding.
The ring bank flood protection scheme will be built near Thorney, which was completely waterlogged for two months last winter.
It will be paid for by funding from the county's 20-year Flood Action Plan.
The £180,000 project will improve flood protection for 10 houses and the road into the village.
The semi-circular hill, which will be 300m-long and 20m-wide will be built on private land around the village.
Leader of Somerset County Council, Councillor John Osman said over the next few months some 500 lorry loads of earth would be brought in.
"If the river breaches its banks again when the water rushes down here it will be stopped," he said.
Hollie Baillie-Grohman, who lives in the village, said the houses in Thorney are still being repaired from the last flood.
"It's taken a lot of hard work by a lot of locals to get this under way.
"It's very important it is built - hopefully it will prevent water coming into the area again," she added.
Work to improve a second existing second ring bank, near the pottery, is also due to begin in late summer.