Girl, 14, sectioned 250 miles from home in mental health unit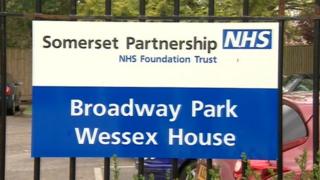 A Yeovil couple have spoken of their frustration over their 14-year-old daughter being sectioned 250 miles away in Norwich to get in-patient treatment.
Wessex House, the county's under-18s mental health unit in Bridgwater, has been temporarily shut since last March because of staff shortages.
Her father said: "She's gone into several places now and she's bumped into people she's been with before."
NHS England has said it makes every effort to place patients close to home.
An NHS England spokesman said in urgent cases when they could not find somewhere nearby, they would "find the nearest available bed, specific to the needs of the individual".
The temporary closure has meant 39 young people from Somerset have had to go elsewhere in the country for specialist care.
Young people have also been put in adult mental health wards.
'Revolving door'
There are currently three Child and Adolescent Mental Health Services (CAMHS) units in the south west - Bristol, Swindon and Plymouth.
"She's had three admissions in nine months to five different hospitals and all out of the Somerset area," her father said.
"At the moment she's in Norwich... where she was sent about a month ago... [after] she was discharged from a unit in Woking in May.
"It seems to be a revolving door and nothing seems to get done.
"Every time she goes somewhere, they seem to paper over the cracks and send her back into the public and we can guarantee within six to eight weeks she'll be back in again."
The teenager was diagnosed with an eating disorder in 2011 and a year later she began to self-harm and tried to kill herself four times.
Over the past nine months, since the closure, the couple's daughter has also been sectioned in Woking, Kent, Southampton and Manchester for various periods.
The NHS Trust has said it is still planning to reopen Wessex House in the autumn.