Musgrove Park Hospital faces eye op legal claims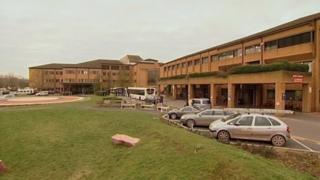 A Somerset hospital is facing a series of compensation claims from patients who say eye surgery performed by a private provider damaged their sight.
Cataract eye surgery was carried out by Vanguard Healthcare at Musgrove Park Hospital in Taunton in May.
A lawyer has said out of the 62 patients who had surgery, half had problems and his client, an 84-year-old man, also lost his sight.
The hospital would not comment as it was carrying out its own investigation.
'Permanent damage'
Solicitor Lawrence Vick is making the compensation claim for the elderly patient who is now blind.
Mr Vick said: "He's a man of 84, he's been left blind unfortunately, he suffered permanent damage to his cornea.
"He needs a cornea transplant, and it's been absolutely disastrous for him."
Earlier this year, the hospital trust appointed Vanguard to clear a backlog of people waiting for cataract operations.
But the operations were quickly stopped after four days. The hospital said it was apparent that "technical issues" had arisen.
Chief executive of Vanguard, Ian Gillespie, said: "We have with the hospital conveyed to the patients our concern and sympathy for the discomfort and distress they have experienced.
"Patient care is our number one priority and we're working closely with the trust to understand and fully investigate the root causes of any complications."
Vanguard Healthcare added the operations were done by highly-qualified and experienced surgeons, approved by the hospital.
The private firm said complications were reported by three patients.
Taunton and Somerset NHS Foundation Trust has said it would not be appropriate to comment in detail while it was carrying out its own internal investigation.