Bishops Lydeard health spa defends 'no riff-raff' sign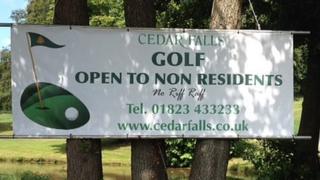 A health farm in Somerset has been criticised for featuring a sign outside which says "no Riff Raff".
The owners of the Cedar Falls Spa and Golf Course in Bishops Lydeard insist the sign is "tongue in cheek", but some people think it is inappropriate.
One user of travel website TripAdvisor said "Riff Raff? You cannot be serious", and locals said people should not be categorised.
Manager Richard Smith said the sign is "in fun", but the spa "has standards".
He said anyone who does visit the centre "must behave in a reasonable manner."
'Lighten up'
TripAdvisor user 'Stormfever' said the centre needs to improve its facilities, and said: "Don't worry. The prices will keep out the 'riff raff'".
And one Bishops Lydeard resident, who did not wish to be named, said "to put people in categories is stupid".
Mr Smith said "absolutely no harm is meant" by the sign and "people really need to lighten up a little bit".
He added that no-one has ever been turned away from the centre for being too "riff-raffy".