Somerset Levels flood-hit village road to be raised by a metre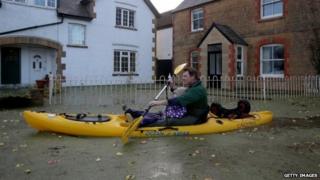 Contracts to improve two flood-hit roads on the Somerset Levels have been approved by Somerset County Council.
The schemes include installing four culverts on the A372 at Beer Wall and raising one of the roads into the village of Muchelney by over a metre.
Last winter, Muchelney was cut off by flood water and the A372 was closed for several weeks for emergency pumping.
It is hoped the Muchelney scheme and phase one of the Beer Wall scheme will be complete by the end of the year.
The proposed works are being undertaken as part of the Somerset Levels and Moors Flood Action Plan.
Under the scheme, a stretch of Drayton Road will be raised by 1.2m (4ft) to maintain road access to Muchelney, and culverts installed near Beer Wall to allow flood water to pass under rather than over the A327.
Somerset County Council leader John Osman said: "These two schemes are pivotal to protecting communities on the Levels and Moors.
"We cannot stop flooding but we can reduce its likelihood and impact."