Cleveland Pools restoration 'green light' with lottery cash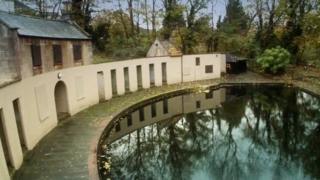 A bid to restore the country's only surviving Georgian lido has been given millions of pounds from the lottery.
The group behind Cleveland Pools, near Bath, has secured £4.1m to reopen the the 200-year-old site to the public.
Its facilities include two bathing pools, a private ladies pool and original changing rooms.
The community group behind the restoration said the pools opened in 1815 following the prohibition of nude bathing in the adjacent River Avon.
Ann Dunlop, chairman of the Cleveland Pools Trust, said its members and supporters would be "over the moon" at the news.
The Heritage Lottery Fund grant will cover 85% of the total costs with the trust needing to raise the remaining money.
According to the trust, Cleveland Pools could be the oldest swimming baths of its type in Western Europe.
The doors were closed to the public in 1978 and the site shut down completely six years later.