Dairy Crest recalls reduced fat cream over sickness fears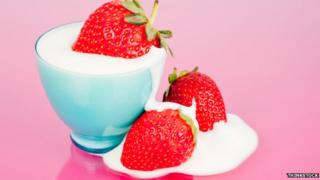 Thousands of pots of thick cream have been recalled by Dairy Crest over fears the food could cause sickness.
The dairy firm said it had identified "higher than normal levels of bacillus cereus" in a small proportion of Weight Watchers West Country Thick Cream.
It is understood 8,862 pots were in the affected Somerset-made batches which have a use by date of 13 or 14 August.
The Food Standards Agency said there had been no reports of illness and this product was the only one affected.
Bacillus cereus is a microorganism that can cause diarrhoea, nausea and vomiting but rarely causes serious adverse health consequences, according to the agency.
Anyone who has purchased from the specific batch is advised not to eat it but to contact Dairy Crest's consumer care team on 0800 328 5344.
The dairy food company said it had spoken to customers [retailers] "to ensure all product is withdrawn and disposed of safely".