Private toll road for Kelston A431 on Google Maps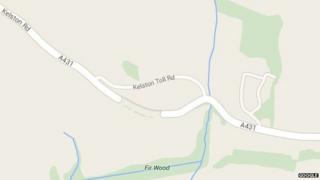 An unofficial toll road built by a local businessman to bypass the closed A431, has been added to Google Maps.
Mike Watts created the shortcut through adjacent fields after a section of the A road between Bristol and Bath was closed in February due to a landslip.
Mr Watts said he was "very excited" his £150,000 road had appeared on Google Maps but he still needed 1,000 cars a day to recoup his investment.
It is believed the map was edited by a user of Google's Map Maker tool.
The BBC also understands the internet firm has no plans to change it back as it has been correctly labelled as a toll road.
The main Kelston Road was shut six months ago and is not expected to be repaired until the end of the year.
A 10-mile (16km) diversion was put in place but recently the 1,300ft (400m) track opened to offer a short cut through adjacent fields to vehicles under 3.5 tonnes.
'Won't lose house'
Last Monday Mr Watts said 700 car drivers a day had ignored "all the road closed signs" and used his private road.
But with a total outlay of £300,000, the businessman wants 30,000 cars a month to use it so "we won't lose our house".
"We're working with the Highways Agency and although the road closed signs have to stay up there'll be additional signage saying there is a paid toll road," he said.
A spokesman for Bath and North East Somerset Council, which had previously rejected the idea of a temporary road, said it would maintain the road closure but allow signage for drivers who "wish to use the toll road at their own risk".
"The council has asked the toll road team to submit their proposed signage in order that the council can ensure it will not confuse the motorists," he said.