Somerset Levels flooded land 'will take years to recover'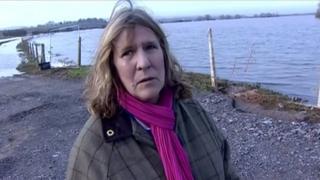 Farmers on the Somerset Levels have said their land will take up to five years to recover after being flooded three times in two years.
Farmer Heather Venn grows hay for her livestock on Currymoor along with 20 other farmers who also use land there.
Mrs Venn said: "It will be three, probably four years before this is back to the nice grass."
Currymoor was flooded the longest during the winter and summer floods as it is the lowest point of the Levels.
'World of good'
Mrs Venn is the chair of the local flood action group Flag, which has been campaigning for more action to prevent future flooding.
She said neighbours had raised concerns to her group about the same problems on their land, where the quality of hay grass was much poorer after the floods.
Her own land was hit by flooding twice - during winter and summer last year.
During the summer floods, a smaller area of the Levels was left underwater, mainly affecting Currymoor.
John Hebditch has 70 acres of land in Currymoor and Hay Moor, for growing hay and silage for his livestock. It has been flooded three times in two years.
He said if the land was left naturally to recover it would take at least five years to get back to full production.
Mr Hebditch added: "We are planning to re-seed it - the best-case scenario is that it will take 18 months to two years to something resembling full productivity.
"We had three serious floods which killed out any grass that can be called productive - all we have now is weeds and water grass."
Productivity worry
Last winter, large parts of the Levels were flooded for months causing huge disruption for farmers.
Crops were ruined and livestock had to be moved away from the affected areas which resulted in mounting costs to farming businesses.
In recent months, farmers across the Levels have been re-seeding for crops such as maize and grass has slowly grown back as the land has drained off water.
James Hall and Becky Riley farm at Northmoor, where their land is used for grazing their cattle.
Mr Hall said the recent hot weather had helped his land recover but added: "It's definitely far, far off from what it should be and it will take years to get it back to full productivity."
The Environment Agency is two weeks into upgrading two 70-year-old diesel pumps at Northmoor pumping station.
There are four pumps in total - and two have already been upgraded to electric pumps.
It is hoped this work will help carry off floodwater more effectively in the future.
On Wednesday the agency said dredging remained on target to be completed by the end of October.