Mark Roberts murder: Ryan Sheppard detained for life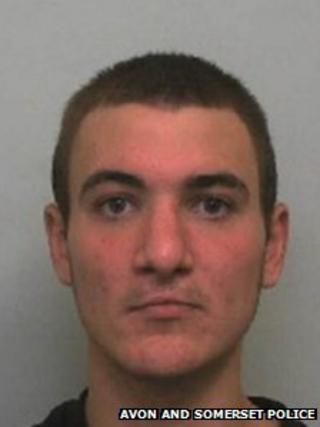 A teenager has been given a life sentence after admitting beating a man to death in a Somerset town.
Ryan Sheppard, 18, of Weston-super-Mare, was detained for 12 years and 3 months for killing Mark Roberts.
Bristol Crown Court heard Mr Roberts, 35, was attacked on 12 October as he walked home after a night out in Weston-super-Mare.
Det Insp Lorna Dallimore said: "This murder sent shockwaves through the community."
'Cowardly attack'
Judge Neil Ford QC said Sheppard had carried out an "unprovoked, sustained and brutal" attack on "the hardworking 35-year-old" who was "engaged to be married this year".
Judge Ford said: "For some reason you suddenly lost your temper and punched him to the head and predictably he fell to the ground.
"A wholly independent witness saw you repeatedly raise his head with both of your hands and smash it on the ground."
The court also heard Sheppard had boasted of the attack and shown video of it recorded on a mobile phone.
Representing Sheppard, Richard Smith QC, said his client was "remorseful for his actions".
A victim impact statement from Mr Roberts's fiancee Zara Powell, was read to the court.
It said: "He will always be my one and only. As well as my children, Mark was my whole life. In the short time we had together we achieved a lot. He made me so happy."
His aunt Theresa Sheldon read a statement by his mother, Lesley Roberts.
It said: "Until the day we die, Mark will be 35. We will never see him age or get married. Mark died when he was at his happiest. His life and future have been taken away from him."
Mark Roberts suffered a cardiac arrest after the attack on 12 October 2013 and was taken to Weston General Hospital where he died 36 hours later.