Shepton Mallet's WWI cenotaph 'guarded by sentries'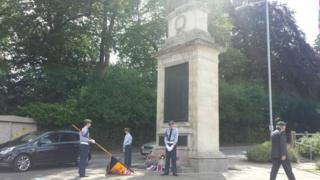 A cenotaph in Shepton Mallet is being guarded by "sentries" to remember people from the town who lost their lives in World War One.
Those taking on the sentry role include cadets and veterans who take turns to stand in silence.
Maj Gen Ray Pett from the Royal British Legion said: "Many families lost all their sons or some of their sons and in a few cases father and son."
The cenotaph honours the 141 people from the town who died in the war.
The vigil is being held to mark 100 years since Britain joined World War One.
Each person taking part in the silent vigil will spend 10 minutes at the cenotaph until 19:00 BST when a procession through the town will take place.
In Wells, the city council planted a bed of Flanders poppies on the Recreation Ground.
They will be maintained for the next four years by local volunteers.
More than 11,000 people from Somerset died in World War One and church services are being held across the county, including at St Mary Magdalene's in Taunton and Wells Cathedral, to remember them.