Forgotten WWI Frome soldier statue dedicated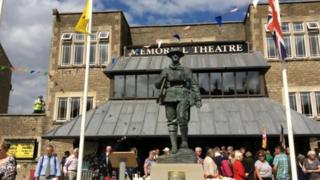 A statue of a World War One soldier, hidden on a Somerset trading estate for years, has been moved and dedicated.
The bronze of Sgt Charlie Robbins, who worked at the JW Singer foundry in Frome, has stood in the town for 13 years but little was known about him.
Following an appeal for information, it was found he served in the 2/5th Battalion Gloucestershire Regiment.
After the war, the Singer worker modelled for a statue and a number were cast with one put outside the factory.
Sue Bucklow, from Frome Museum, said since their appeal they discovered Sgt Robbins was a "typical Tommy" who served throughout the war.
"He survived and came back and carried on working at Singer's until he retired in 1960," she said.
"We've come across a couple of great-nieces who remember him as a very nice chap, very quiet and well spoken, very kind, very caring."
To mark the 100th anniversary of the outbreak of World War One, the statue has been moved from outside the old Singer building, on the Marston Trading Estate, to the Frome Memorial Garden outside the town's Memorial Theatre.
The town's theatre was built after the war to commemorate those who died.
Humphrey Barnes, from Frome Memorial Theatre Trust said: "JW Singer, inside the foyer, put up two lovely plaques with all the names of the fallen in that conflict.
"We just feel the statue now completes the picture and this is where he should be."