Avon and Somerset Police project given £751,000 grant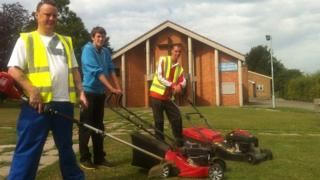 A policing project to cut crime in a deprived estate in Taunton has been given a £751,000 grant from the Home Office to roll it out to other areas.
The Halcon One Team has involved Avon and Somerset Police and other agencies joining up to tackle issues such as crime, debt and unemployment.
The project will now be rolled out to Wellington and Priorswood, Taunton.
Supt Ian Wylie said they aimed to tackle the "hidden poverty" in those two areas over the coming months.
In the first five years of the project, from 2008 to 2013, there has been a 46% reduction in the number of young people suspected of crime and a 53% reduction in the number of youth victims of crime.
Mr Wylie said: "We know that in rural areas people have difficulty in accessing public transport, public services are more remote and some of those families who need that support are often unable to access these services.
"This is an opportunity to develop this approach more widely within a slightly different context."
The funding grant has been welcomed by Taunton Deane Borough Council.