Environment Secretary Elizabeth Truss shown Rivers Parrett and Tone flood defence works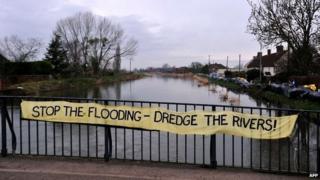 The new environment secretary is in Somerset to see how work on flood protection dredging is progressing.
Elizabeth Truss, who took over the post from Owen Paterson 10 days ago, has been shown dredging on the Rivers Parrett and Tone.
She said dredging work was on schedule and action was being taken where it was needed to prevent future flooding.
"I see it as a real priority to make sure the area is properly protected against flooding," said Ms Truss.
The Somerset Levels suffered serious flooding between Christmas and March, with some 11,500 hectares (28,420 acres) inundated at the peak of the crisis.
In January, Prime Minister David Cameron announced rivers in Somerset would be dredged once all the flood water had drained off the Levels.
"It was terrible what happened and I want to make sure that we're dealing with it and have the plans in place for the future," said Ms Truss.
Dredging is part of a 20-year plan to restore water capacity of rivers on the Levels to how they were in the 1960s.
It will cost an estimated £100m to take immediate action to manage water levels under the Somerset Levels and Moors Action Plan.
The cost of implementing the plan could go up by another £200m to raise roads and railway lines in other major projects, but further investigation work is needed before this sum is confirmed.
So far, the government has pledged £10.5m towards the plan.
A further £1.5m towards the cost has already been raised from Somerset local authorities, drainage boards, the Environment Agency and the Royal Bath and West Society.
Later Ms Truss is due to meet with the Environment Agency and local farmers.