Missed Yeovil District Hospital appointments cost £90,000 a year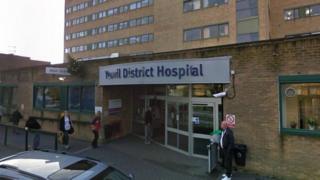 Patients missing appointments is costing Yeovil District Hospital £90,000 a year, it has been claimed.
Medical director Tim Scull said the hospital dealt with 20,000 patients a month, including 12,000 outpatients.
He said the no-show rate is currently between 7% and 10% each month, so up to 1,200 patients.
The hospital plans to send text messages to patients when the appointment is made, and then a reminder three days beforehand.
'Timely opinion'
Patients will not be charged for the service, with the hospital picking up the cost.
Mr Scull said: "The cost to the trust of the texts pales into insignificance compared to the value we will gain by increasing our outpatients' attendance.
"[Missed appointments are] worrying for the patients because they are not getting a timely opinion on their condition and it's worrying from the financial point of view.
"It's worrying for the wider health community because waiting lists will increase.
"We then have to fit those patients back in again."
Yeovil District Hospital NHS Foundation Trust said that each missed outpatient appointment costs "in the region of £150", which includes staff costs, overheads, admin and backup services.
'Did not attend' figures for Yeovil District Hospital have remained close to 10% for the past three years.
NHS England figures for 2012/13 showed 6.9 million hospital outpatient appointments, out of 94.1 million, were missed.
It puts the cost at £108 per missed appointment.