Somerset flood legacy blamed for tourism fall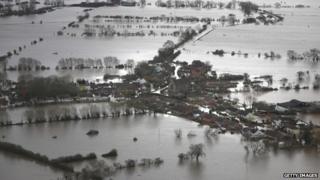 Tourism bosses in Somerset say the flooding in the county over the winter, has seen the local economy's income drop by about £250m.
Visit Somerset claims visitors to the area - compared with last year - are down by up to 25%.
John Turner, from Visit Somerset, said people still believed the Somerset Levels were a no-go zone.
He said tourism brought in just under £1bn to the local economy and employed about 30,000 people.
"It was only 40 square miles that was affected out of 1,600 square miles in the county.
"We need to look at our social media calendar, and our website to make sure we are doing everything we can in terms of our marketing and communications.
"We need to think on our toes and perhaps get the One Show back here to raise the profile on the county like His Royal Highness, the Prince of Wales did the other day.
"We have a huge amount to be proud of and we are working very hard to raise our profile."
Businessman Paul Conibiere, from the West Somerset Railway, said its group bookings were down earlier this year.
"They were cancelling from afar because they were under the impression the whole of Somerset was flooded, which clearly wasn't the case.
"By the end of June we were looking at 4,000 fewer visitors than would have come to the railway last year."
Large parts of the Somerset Levels spent most of the winter of 2013-14 under water after much of the South West of England was battered by high winds and heavy rain.