Plans on show for Somerset Levels flood-hit village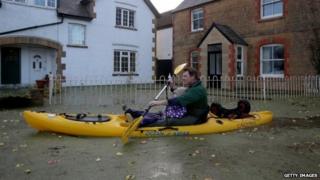 People on part of the Somerset Levels are being shown new plans designed to prevent the closure of a a major access road in times of flooding.
Last winter the route was flooded at Beer Wall for several weeks and remained closed to traffic while emergency pumping was carried out.
Four new culverts are planned to the east of Langacre Rhyne alongside the Sowy under the A372 at Beer Wall.
This would allow water to pass under the road and feed back into the Rhyne.
The work would also protect access to villages like Muchelney and Thorney, which were marooned for weeks during the floods.
The proposed works are being undertaken as part of the Somerset Levels and Moors Flood Action Plan.
"This scheme has been designed so that the road would be able to stay open even if we have the same flood levels as last year," said Councillor Harvey Siggs, of Somerset County Council.