Landslide bypass toll road 'to open next week'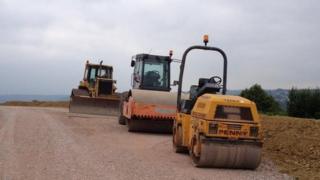 A temporary toll road to bypass a busy route between Bristol and Bath, which was closed after a landslide, will open next week its constructors said.
The A431 was closed in February after heavy rain caused a landslide.
Businessman Mike Watts said a stone-built road on neighbouring land would open on 1 August. Motorists will be charged £2 to use it, he added.
Bath and North East Somerset Council (Banes) said a planning application for the road had not been received.
Mr Watts said: "This is going to help Bath and Bristol be reconnected. This just relieves the pressure on everybody."
The council said permanent repairs had now begun after the land stabilised.
"We appreciate the difficulties that local residents have experienced since the emergency closure... but will not encourage proposals that have not been proven to be safe or compliant with statutory requirements," a council spokesman said.
'Safety standards'
"The council is not in a position to support the temporary road option as we have not been provided with any evidence or information to support the application.
"The council has no details to confirm the toll road design meets safety standards and no evidence that insurances are in place for any member of the public who use the private toll road."
Mr Watts said a planning application would be put in retrospectively.
Since February motorists have been forced to use a 10-mile diversionary route.
The repair work will require 4,000 tonnes of stone to build a platform on sloping ground to allow drilling of reinforced concrete piles to take place.
The road is due to reopen "before Christmas", the spokesman added.