Environment Secretary Liz Truss faces badger cull pressure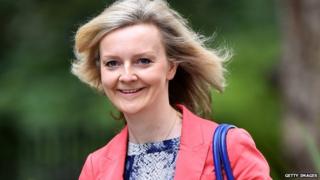 New Environment Secretary Liz Truss has vowed to use "every tool in our toolbox" to tackle bovine tuberculosis.
But Labour opposition MPs said they were "appalled" Ms Truss intended to continue a "discredited, unscientific, inhumane and ineffective" badger cull.
Pilot culls in 2013 were assessed by an Independent Expert Panel (IEP) as ineffective.
Pushed in the Commons to guarantee the IEP would assess future culls, Ms Truss said Natural England would do so.
'Disappointing reply'
The IEP, appointed last year to report to ministers on culls in Gloucestershire and West Somerset, found shooting free-running badgers was ineffective, and failed to meet humaneness criteria.
For the second stage of culls, planned for later this year, the government has opted to use its own bodies, Natural England and Animal Health and Veterinary Laboratories Agency.
Challenged in the Commons by Maria Eagle, shadow environment secretary, to guarantee the IEP's inclusion - Ms Truss said: "The reality is that bovine TB represents a massive threat to our dairy and beef industries and we need to look at the best scientific evidence.
"We are asking Natural England to assess the way that the culls are going and to look at what we can do in the future."
But Ms Eagle said the reply had been "disappointing".
"I'm afraid you've just flunked your first test and missed a golden opportunity to put scientific evidence back where it ought to be in Defra (Department of Environment Food and Rural Affairs), at the very centre of the decision-making," she said.
Neither pilot scheme managed to kill the 70% of badgers that scientists say is needed to reduce tuberculosis in cattle in the area and more than 5% of badgers took longer than five minutes to die.