Council apology for man locked in shut-down toilets for 24 hours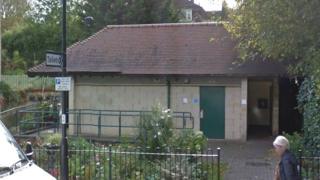 A man was found locked in toilets in Bath, a day after their closure.
The man, thought to be homeless, was locked in public loos on Weston's High Street for more than 24 hours before his cries were heard by a passerby.
Healthmatic, which manages facilities for the council, said its workers had knocked but not "visually checked" before locking the loos.
The council said it "apologised unreservedly" and had taken steps to ensure it did not happen again.
'Sounded the alarm'
The public toilets are one of five facilities across Bath and north east Somerset that have been closed down by the council in a bid to save money.
The "final locking up" of the facilities in Weston was carried out by Healthmatic at 7:00 BST on Monday.
But it was not until Tuesday at about 10:30 BST that the man was discovered.
A spokesman for the company said staff had "knocked on the door" but admitted they had not gone inside which "should have been done as correct procedure".
"All the disabled toilets have an emergency alarm," he said.
"When the man awoke on Tuesday morning, he sounded the alarm via a pull cord in the toilet and he also banged on the door. This was heard by a passing member of the public who alerted the police."
A Bath North East Somerset Council spokesman said the man was "fortunately unharmed".
"We have now taken action with our contractors to ensure that they follow procedure so that this cannot happen again."