Bath's Dorchester Street bus gate fines are refunded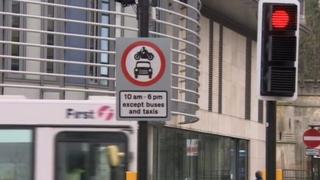 Some £222,000 has been refunded to motorists caught in Bath's new bus gate system, the city's council has said.
Bath and North East Somerset Council said that signs warning drivers about the bus lanes on Dorchester Street were not clear enough.
Since January, 7,225 Penalty Charge Notices have been issued by the council and 99% of them have been refunded.
The remaining 80 fines amounting to £2,400 are in the final stages of being processed, the council added.
The fine was £60 but reduced to £30 if paid quickly.