Contractors ordered to relay Weston-super-Mare roads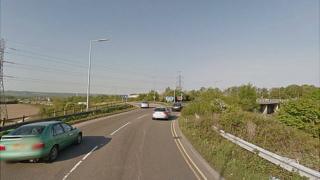 Contractors have been ordered to rip up and relay roads near Weston-super-Mare because they are "not up to standard".
The work, part of a £15m scheme to reduce congestion at junction 21 of the M5, was completed five months ago.
But North Somerset Council said the surface on some of the roads "wasn't up to our standards" and needed replacing.
The repairs, which will be paid for by the contractors, will take place overnight and are due to be completed by 11 July.
The renovation project, started in April 2013, included remodelling the roundabout and approach roads at junction 21 of the M5.
But five months after opening, the junction is being partially closed again from 8 July for three nights to carry out "remedial works".
"We knew when the work was done that it wasn't up to our standards," said councillor Elfan Ap Rees, executive member for highways and transport.
"We told the contractor it had to be done again but we wanted to wait until we had some decent weather.
"We want to apologise for any inconvenience this might cause for motorists but it needs to be right before we accept the responsibility for this section of the road."