Bath archivists discover 18th Century weather diary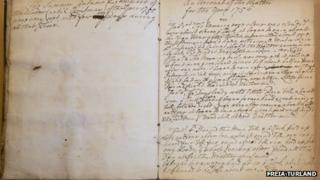 A diary recording Bath's weather, written by a clergyman about 250 years ago, has been found by archivists.
The parchment notebook belonged to Reverend Duel Taylor whose tiny writing recorded the city's weather every day for six years between 1756 and 1761.
An entry in December 1759 shows extreme weather was not unusual with the river "frozen so hard" people had to "walk across it for three days past".
It was found among papers of Bath's town clerks.
'Wonderful collection'
Archivists working at Bath and North East Somerset council's record offices discovered the small diary during work on an archives cataloguing project.
Their aim is to catalogue all of Bath's records, which date from the 12th Century to the present day, and which the council said "occupy nearly two kilometres of shelving".
Councillor Ben Stevens said: "We have always known we hold a wonderful collection of documents dating back to 1189, but have never had the opportunity to look at every single item before.
"This discovery of old weather records is just one of many resulting from the detailed survey now made possible by the new funding.
"We're rightly proud of our archives and details like these vastly enrich our understanding of our shared heritage as a city."
The project, which started in February, received £47,000 from The National Cataloguing Grants Programme for Archives.
The aim is for the collection of documents to be made available as an online catalogue by next year.