Somerset's West Huntspill wind farm appeal dismissed again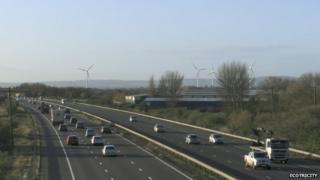 A green energy firm's second appeal against a decision to reject plans for a wind farm at West Huntspill in Somerset has been dismissed.
Stroud-based Ecotricity wants to build four 120m-high (393ft) turbines at Black Ditch on the Somerset Levels.
The company appealed against the first refusal from Sedgemoor District Council and an inquiry was held last year.
Permission was then recommended by a planning inspector but that advice was later overruled by the government.
A further appeal was launched against Secretary of State Eric Pickles's decision but that has now been thrown out by a High Court judge.
Ecotricity said it would now consider its options regarding a third appeal.
"We are disappointed by the decision. We believe the Black Ditch site is absolutely an appropriate location for four wind turbines and it was clear to us that there were discrepancies in the Secretary of State's decision to dismiss our appeal," said a spokesperson.
The plans have been refused "on the basis of landscape and visual impact", according to the district council.