Somerset hospitals lagging in ambulance arrival times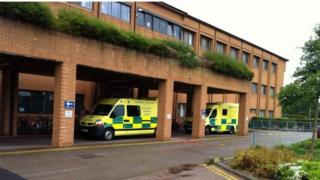 Some 30% of patients brought by ambulance to three Somerset hospitals over the past year were kept waiting longer than necessary, figures show.
The South Western Ambulance figures relate to handover times at Musgrove Park in Taunton, Yeovil and Weston.
Despite the delay, the ambulance service said it had "no concerns" and was "working hard to minimise delays".
Patient group Healthwatch Somerset said the delays were of concern and could have a negative impact on patient care.
Hospitals fined
The service said its latest annual figures showed that the delays at the three locations amounted to 129 days lost.
The group has also said it wants to hear from patients about their experiences so that it can investigate further.
Delays in hospital handovers means paramedics are unable to attend other 999 calls. If a handover takes longer than 15 minutes, the hospital gets fined.
A spokesman for South Western Ambulance said: "While there will be peak periods that may see delays occur at hospitals right across our region, at this time the trust has no concerns around any of the hospitals within the Somerset area (Weston General, Musgrove Park and Yeovil District)."
Figures covering March 2013 to April 2014 showed that the worst handovers were at Taunton and Weston hospitals. In Weston, 27% of patients had to wait longer than than 15 minutes but 3.5% of patients (which equates to 496 patients) were left waiting for longer than an hour.
'Significant progress'
A spokesman for Weston General said: "We have done considerable work since November 2013 when we remodelled patient flow at Weston General Hospital and our performance has improved significantly since then".
At Musgrove Park hospital, 34% of patients had to wait longer than 15 minutes.
Julie Jones, of Musgrove Park Hospital, said: "I would agree that our performance is not as good as we'd like it to be but we have made significant progress in the last quarter of the year when we've had expansion in A&E and that's really helped our flow."