Chew Valley ford warning road signs criticised by residents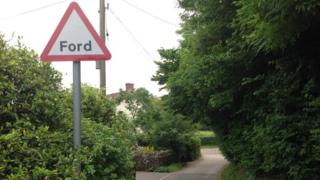 New road signs warning of fords in part of Somerset have been described as unnecessary and confusing by local residents.
The local authority installed the nine signs in Chew Valley following the death of a motorist who drowned during heavy flooding in the area in 2012.
The coroner at the inquest into his death said signs warning of fords needed to be improved,
However local people have complained about the size and number of signs.
Stowey resident Muriel James, who has had a sign installed outside her house, said: "They are very tall and there are three of them.
"I'd have thought two were quite adequate. I think they are too tall and the middle one is placed so close to the ford that you don't get adequate warning of the ford itself.
"I understand that we need a certain amount of warning but you have to be careful where you place them."
'Big puddle'
Dennis Baber of Norton Malreward Parish Council has written to Bath and North East Somerset Council asking why four warning signs have been placed in the village for an area he disputes is actually a ford.
"You've got a big puddle at one side but I've never been aware of it actually flooding across the road. And certainly it's not a ford," he said.
A Bath and North East Somerset Council spokesman said the authority was aware of the issues raised by local residents and councillors and "appreciates their concerns".
But he added: "The minimum signing for fords is set out in national guidance documents.
"All we have done as part of a review is ensure that all the fords across highways meet this guidance."