Taunton Gateway park-and-ride to reopen after travellers forced closure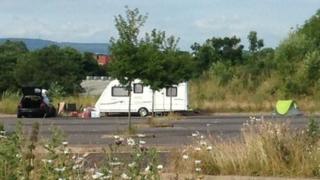 Taunton's Gateway park-and-ride site will reopen on Thursday after a group of travellers moved on, Somerset County Council has said.
A spokesman said about 30 travellers, who were illegally occupying the site, moved on peacefully at about 20:00 BST.
The site was closed "due to health and safety concerns" after they set up camp late on Tuesday.
The park and ride will be open for business as usual from 06:40 BST on Thursday, the spokesman added.
In August 2012 the same site was closed for several days following an "unlawful occupation" by travellers.