Shepton Mallet patient in 10-hour wait after transport mix up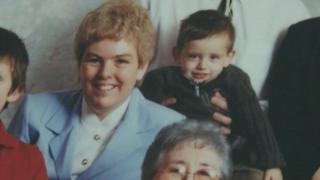 A severely disabled woman was kept waiting on a hospital trolley for more than 10 hours after a mix up over patient transport needed to take her home.
Michelle Champion was left waiting to return to her specialist care home after receiving treatment for a suspected broken hip at Salisbury District Hospital.
"She was getting very frustrated and kicking around," said her father Bob, from Shepton Mallet.
"At times it was taking up to three of us to calm her and hold her on to the trolley."
Miss Champion, who suffered a stroke last December, has been recovering at the care home, which is seven miles away from the hospital.
Frustrating delay
Mr Champion, says he was told a non-emergency ambulance company refused to take his daughter, because she is registered with a Somerset GP.
The hospital and a patient transport company are both now investigating, along with the Somerset Clinical Commissioning Group (CCG), which is responsible for Miss Champion's ongoing care.
I met Mr Champion when he raised this case with Somerset CCG at a public board meeting in June. He plans to speak at the next Wiltshire CCG meeting as well.
I visited him a few days later at his home, when he told me the full story.
His daughter was left severely disabled and largely unable to communicate when she suffered her stroke.
Since March, she has been an in-patient at a specialist neurological unit just outside Salisbury. Mr Champion told me she can say just a few words and spends a lot of time lying on a padded floor.
On 1 May, she was taken by ambulance to Salisbury District Hospital with a suspected broken hip.
On arrival at the Accident and Emergency Department, where her father met her at about 21:00, she was taken for X-rays which showed she did not have a broken hip.
Mr Champion said the sister of A&E called the patient transport company at around 01:30, but was told they could not take Michelle back to the care home.
"The only excuse that we had for the refusal of transport, after the sister and the doctor had ordered it, was 'No sir, we cannot take her, because her GP is registered in Somerset," Mr Champion says.
Call log confusion
He says his daughter became very distressed when she realised she could not be taken home.
Mr Champion worked as an ambulance man for 30 years, and said A&E staff were also frustrated by the long delay.
Salisbury District Hospital says because Miss Champion remains a Somerset patient, the Wiltshire patient transport service would not have been obliged to take her home.
The hospital says its records show the Somerset patient transport service was called between 01:15 and 01:25, but they were not able to take the patient.
It is now looking in more detail at its call log.
The Somerset patient transport service has been run by NSL South West Limited for Somerset CCG since October 2013.
Dr Belinda Webb, from NSL, said: "We have received no complaint with regards this patient and would always encourage people to come to us first if they feel dissatisfied."
The company says its log shows no call from the hospital that night and it did have an overnight crew available, but it will investigate further.
Somerset CCG said it was concerned to hear about Miss Champion's experiences, is also investigating the matter, and will write to Mr Champion.