Flood protection plan for Somerset village of Thorney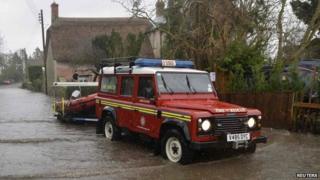 An earth bank is to be built to help protect a village on the Somerset Levels from flooding.
The ring bank flood protection scheme will be built near Thorney, which was largely underwater for two months last winter.
It will be paid for by funding from the county's 20-year Flood Action Plan (FAP).
Experts say it will improve flood protection for about 10 houses and the road into the village.
Peter Maltby, chairman of the Somerset Drainage Boards Consortium, said: "Without a doubt this scheme will reduce the flood risk to the properties and the road that flooded last winter at Thorney."
Leader of Somerset County Council, John Osman, said: "All the organisations are committed to putting the plan into action and I know everyone is keen to see progress.
"No single piece of work can solve the problem of flooding on the Levels on its own, but all together they can make a difference."
The FAP Programme Board has agreed to the proposal for the bank and made a commitment for it to be funded, although it says the exact cost will not be known until tenders for the work have been received and the contract awarded.
It will be built by The Parrett Drainage Board, part of the Somerset Drainage Boards Consortium.
The flood work comes as a flooded house in Moorland was sold at auction for £175,000, compared with its original value of £300,000.