Temporary road plan for closed A431 at Kelston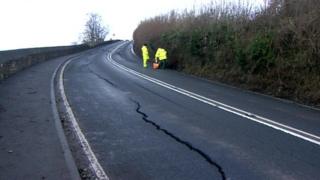 Plans for a temporary toll road for traffic to bypass a closed route between Bristol and Bath have been drawn up by a local businessman.
The A431 Kelston Road was shut in February after a landslip and will not be repaired until the end of the year.
Businessman Mike Watts wants to erect a 300m aluminium relief road which would go through an adjacent field.
Bath and North East Somerset Council (Banes) previously rejected the idea of building a temporary road.
Mr Watts said cars would be charged £2 each way to use the track, while motorbikes would be charged £1.
'Driving me crazy'
"It used to take me eight minutes to drive into Bath. It can now take me over an hour [by following the diversion].
"It is driving me crazy that there is no alternative. This temporary road will avoid the landslide completely," he said.
Mr Watts said he would rent the track for up to £2,000 per day to bypass the damaged road to the north.
He added he had an agreement with a landowner to rent part of a field.
Since February motorists have been forced to use a 10-mile diversionary route.
Banes rejected the idea of getting the Army to build a temporary road on the south side of the affected area, because "it would have taken up the land needed to carry out the permanent repair works".
'Not a good idea'
The Liberal Democrat-run authority also said it would delay a permanent repair and be "vastly more expensive".
Banes leader Paul Crossley said: "It would not be a good idea. It would take so long to get the health and safety aspects and the the signage worked out.
"We're building the road as quickly as we can. We're starting work on it in July. The quickest solution is to get the road permanently solved."
The permanent repair, costing £1.5m, is due to be complete by the end of 2014.