Drink-driver died after crashing into Lord Ashdown's car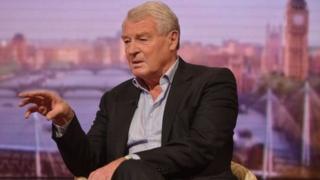 A driver died when he lost control of his vehicle and hit a car carrying Lord Ashdown and his wife, an inquest has heard.
Mark Hurford, 49, was more than two-and-a-half times over the drink-drive limit when he was involved in the crash on the A356 in Somerset in January.
A statement from former Liberal Democrat leader, Lord Ashdown, said it was a "massive crash".
Coroner Tony Williams recorded a verdict of accidental death.
Paddy and Jane Ashdown were driving to their home in Norton-sub-Hamdon when their car was hit by Mr Hurford's car.
Mr Hurford had lost control of his car while on a blind bend.
"Our car was filled with smoke. I was worried at the time that it had caught fire and so I told my wife to get out of the car immediately," he said.
'Dangerous' overtake
Lord Ashdown called the ambulance and walked along the line of waiting traffic in search of a doctor who could perform CPR on Mr Hurford.
After hitting the couple's car, Mr Hurford hit a van carrying a cherry picker, which was travelling behind the Ashdowns.
Other witnesses said Mr Hurford had "dangerously" overtaken three vehicles despite double white lines on the road a mile before the collision.
Lady Ashdown said: "In my opinion the driver of the oncoming vehicle was the cause of this accident due to his speed and the fact his vehicle was out of control."
Mr Hurford, who died at the scene, was later found to have a blood alcohol reading of 208mg per 100ml of blood.
Police said cans of cider were found in Mr Hurford's car, including an open can in the footwell which still had some left in it.