Bridgwater site chosen for £7m nuclear business centre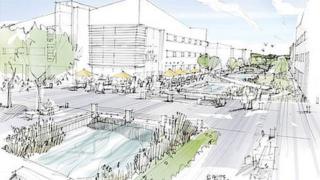 A site for a £7m centre for nuclear and low-carbon companies in Somerset has been approved.
Somerset County Council has decided to purchase land on Bridgwater's Woodlands Business Park for the centre.
The project, designed to capitalise on the nuclear power plant due to be built at Hinkley Point by EDF Energy, was due to be sited at Bridgwater Gateway.
But, with a June 2015 completion date required to secure funding, the council decided on a "deliverable alternative".
In 2012, the gateway site was identified as the "first choice" for the innovation centre and in December 2013 planning permission was given.
Since then, according to the council, the developer has been unable to complete "all the matters needed" to ensure it is built within the European Regional Development Fund (ERDF) funding timeframe.
With a deadline to complete the hub building by the end of June 2015, the council is hoping ERDF funding can be transferred to the new site and planning permission approved later in the month.