Flood-damaged A431 at Kelston 'to be open by Christmas'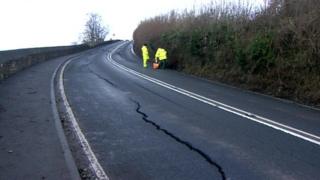 Work to repair a main road between Bristol and Bath that was damaged following flooding will begin in July.
Part of the A431 Kelston Road was shut in mid-February amid concerns that subsidence could lead to a "catastrophic" or "fatal" landslip.
Bath and North East Somerset Council said it had come up with a plan to permanently stabilise the land.
Works is anticipated to be completed and the road fully opened before the end of 2014.
A Banes spokesman said the work was being fast-tracked because of the impact of the landslip on local residents, businesses and commuters.
"Our priority has always been to achieve a permanent solution which means we need not suffer such problems in the future," he said.
"The council will also be looking to apply for government funding to offset the cost as this was a direct result of the heavy rainfall and flooding that caused so many problems across the country."
Diversions remain in place inbound via A431 to Willsbridge, A4175 towards the Hicks Gate roundabout, A4 Keynsham bypass, towards the Globe roundabout, A36 Lower Bristol Road, across Windsor Bridge Road, rejoining A431 at Newbridge Hill.