Weston General Hospital privatisation plan scrapped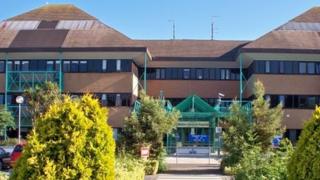 A plan to partly privatise a North Somerset hospital has been scrapped in favour of keeping it within the NHS.
Weston Area Health NHS Trust, which has previously considered interest from private firms, has said it was now pursuing an "NHS only" future.
Government reforms mean the management of Weston-super-Mare's debt-ridden General Hospital has to change.
An open market procurement process is under way with a successful bidder expected to be announced in the autumn.
'Stronger position'
Nick Wood, chief executive of the trust, said: "Previously an 'NHS only' route was not an option, but that's now changed.
"Due to the fantastic commitment of all our staff, significant improvements across the trust have put us in a much stronger position than we were 18 months ago when the procurement process first began."
Those changes are in clinical services, quality, patient experiences and financial stability, the trust said.
The NHS Trust Development Authority will assist Weston in either merging with another NHS trust or being acquired by an NHS foundation trust within a 50-mile radius.
Campaigners and trade union Unison had previously said they were totally opposed to the privatisation of the hospital, with the union warning that its members were prepared to campaign against it.
More than 10 bids from private companies were submitted, including one from CircleBath which runs a private hospital near Bath.