Amy Williams inducted to University of Bath Hall of Fame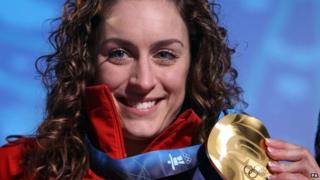 Olympic gold medallist Amy Williams has been inducted to the University of Bath's new Hall of Fame for Sport.
At the Winter Games in 2010 she became Britain's first woman skeleton gold medallist and the first woman individual gold medallist for 58 years.
The athlete was inducted to the Hall of Fame by Professor Kevin Edge, Deputy Vice-Chancellor of the university.
Williams said she was "honoured and proud" to be included in the Hall of Fame.
'Truly an inspiration'
Williams is the third athlete to be inducted to the Hall of Fame, following Jason Gardener and Ben Rushgrove, who became the first two inductees two weeks ago when the Winter Olympian was unavailable for that ceremony.
Williams, a University of Bath Sports Performance graduate, said: "The University of Bath has played an important role in my sporting life and I feel privileged to be recognised in this way."
Professor Edge said: "When we first talked about creating a Hall of Fame for Sport at the University of Bath, the name Amy Williams was at the top of many people's lists.
"We like to think of her as 'our Amy', but she is truly an inspiration to us all at the university, to the people of Bath, and to many, many more."
Amy Williams has lived in Bath for most of her life and was made a Member of the British Empire in 2010 and installed an Honorary Freeman of the City of Bath.