Bath Abbey awarded £10m for sinking floor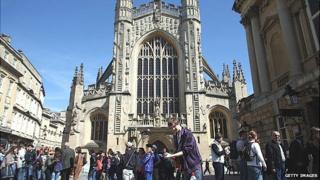 More than £10m of lottery funding has been awarded to Bath Abbey to repair its floor, which is sinking due to the thousands of people buried beneath it.
The money, including a £389,000 development grant, will also be used to tap into Bath's spa water to heat the abbey and a vast underground extension.
Planning and listed building consent for the £19.3m project was approved by the council in March last year.
Laura Brown, from the abbey, said it made the project a "tangible reality."
Vast underground vaults
The medieval abbey, which dates back to 1499, attracts more than 400,000 visitors a year.
But at the beginning of 2011, trial digs discovered the building's long-term stability was being affected by burials and graves just below its stone flooring.
"There are about 8,500 people buried under the floor and it has caused the floor to slowly collapse - in places catastrophically," said Charles Curnock, the abbey's project director.
"The last measurement showed that part of the floor had dropped about three inches over the last year or two."
The Heritage Lottery Fund bid will not only be used to make the abbey "fit for purpose" but also open access to its vast 200 sq m (2,152 sq ft) underground vaults.
But to "unlock the full" £10m award, the abbey will need to raise around £7m in additional funding.
"We have to raise the balance of the money between now and June next year," said Ms Brown, the abbey's appeal director.