Somerset councillor criticised in railway bid process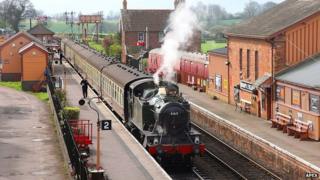 A politician has been accused of having a "cosy relationship" with a group vying to bid for the freehold of a heritage railway.
Somerset County Council cabinet member David Huxtable was to sign off the council's sale of West Somerset Railway's freehold.
Councillor Mike Rigby questioned Mr Huxtable's impartiality after seeing his emails with one of the bidders.
Mr Huxtable said: "I consider I've done nothing wrong."
Two groups - the West Somerset Railway Association and West Somerset Railway Plc - bid for the freehold.
The sale is currently on hold because neither bidder met the council's criteria.
'Glorious isolation'
Meanwhile, a Freedom of Information request released emails between Mr Huxtable and Roger Bush from the West Somerset Railway Association.
They showed various statements from Mr Huxtable including:
"I would have thought Mike Rigby would be making a big mistake if he made too much of this proposed transfer of freehold. Perhaps that needs pointing out to him. The quieter this is kept, the better, and making a fuss could be construed as damaging for the railway."
"I think I might open my 'media campaign' which will point out that it is not in the public interest for the Plc to hold the freehold."
David Huxtable advised Roger Bush (acting for WSR Association) on the wording of a press release saying "if perhaps you removed the word "substantial" from before "capital receipt" that might initially help both parties? It makes it too easy for someone to ask "how much". It might be timely to issue it before the Plc AGM as we have not put our new lease to them in writing yet. Might keep them on their toes."
In another email a few days later, when referring to an email seen from WSR Plc, he wrote, "we did anticipate their objection. I am meeting with them tomorrow…I do not anticipate any public sympathy for the Plc".
Mr Rigby said: "When I saw these emails and how cosy a relationship with the representative of the railway association I was really surprised.
"He [Mr Huxtable] should be sitting in glorious isolation in all of this."
The county council said when there is more than one bid, each one is assessed by council officers who then put forward a preferred bidder to Mr Huxtable, who would have the power to either accept the preferred bidder or cancel the process.
After denying Mr Rigby's accusations, Mr Huxtable said : "I still think the course of action to get the two parties to agree [to work together].
"It's gone from being a sale issue to an economic issue because it's all about the prosperity of West Somerset and the railway."