'Mouth tape' teacher leaves Danesfield School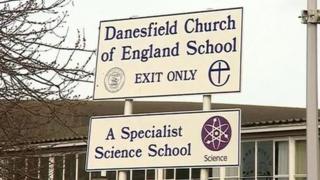 A teacher who allegedly taped the mouths of pupils at a Somerset primary has left the school.
Priscila Davo Ortega was suspended following the incident at Danesfield School in Williton on 3 March.
Parents claimed tape was used to keep their children quiet because they had been noisy.
Quantock Academy, the governing body of the school, said in a letter to parents that "Miss Ortega is no longer employed by the Academy".
An independent external review was carried out by the relevant authorities, including the county council's safeguarding team.
Quantock Academy said "all investigations surrounding this matter had now been completed".