Avon and Somerset Police record driver at 86mph in 30mph zone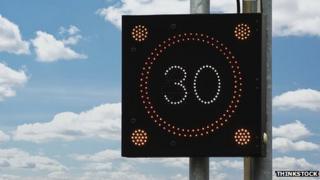 Mobile speed cameras have caught one motorist driving at 86mph in a 30mph zone and another doing 125mph in a 70mph zone in Bristol and Somerset.
The figures from Avon and Somerset Police show the top five speeds recorded between April 2012 and April 2013.
The Force's Speed Enforcement Manager Sharon Kostanjsek described the high speeds as "extreme recklessness".
Twenty-six static cameras are due to be switched back on by the end of June.
They were deactivated in 2011 after the area's safety camera partnership was dissolved.
"They are astonishing speeds. It's worrying that drivers feel it's safe to do these speeds on our roads and this needs to be tackled," said Ms Kostanjsek.
The Bristol Group of Advanced motorists said the speeds were like "firing a loaded gun into a crowded room and hoping it doesn't hit anyone".
There are nine mobile speed camera vehicles and three motorbikes currently operating across the two counties.