Taunton road works causing bus delays say First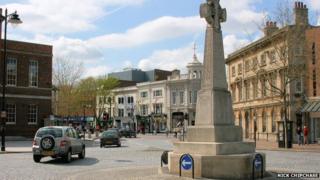 A bus company has blamed road works along a major route through Taunton for delays to its Somerset services.
First said some trips across the town centre have taken more than 80 minutes - about double the usual time.
Conservative councillor for highways, Harvey Siggs said the council is looking at alternative diversion routes around the A38, near the police station.
Wessex Water started work in mid-April to upgrade "ageing water mains".
During the work a westbound only, one-way system has been put in place between Cann Street and Hurdle Way.
At the same time, work is also taking place on the other side of town to build the new Northern Inner Distributor Road that will link Staplegrove to the retail park at the end of the Toneway.
'No easy solution'
Robbie Lamerton, First's general manager in the South West, said: "This is affecting nearly all our services. All our town services, all our services going to Weston-super-Mare and also into Wellington.
"The town is becoming so gridlocked it's taking an hour and 20 minutes for us to get from the south of Taunton, through to the north.
Mr Higgs said temporary one-way schemes could "help get traffic flowing" but admitted there was "no easy solution" to the problem.
The project to improve water quality in Taunton - named Operation Clean and Clear - started in June 2012.
This last phase is expected to be completed mid-September. So far 30 miles (50km) of iron water main has either replaced or relined with modern plastic pipes.
A company spokesman said: "We understand that this last phase is taking place within a busy section of the town and ask that you're patient while we complete the work as quickly as possible."