Hinkley Power plant deal 'will go ahead' says PM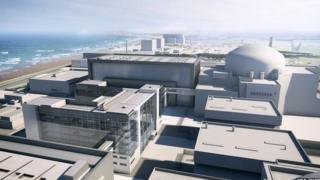 David Cameron is "confident" Somerset will have a new nuclear plant despite an EU investigation.
The comments come after Bridgwater and West Somerset MP Ian Liddell-Grainger called for an urgent parliamentary debate into the issue.
The prime minister also said the investment was "part of a balanced plan to provide core energy".
The European Union is investigating whether the contract with developers EDF Energy breaks EU subsidy rules.
Political panic
Speaking to the BBC, Mr Cameron said: "Countries in Europe should be able to invest in nuclear energy as part of a balanced plan to provide core energy and to keep carbon emissions down.
"That's what we're doing. I'm sure the [EU] commissioner will see that is the point and I'm confident this will go ahead."
Last autumn the government announced EDF would lead a consortium to build the station at Hinkley Point to supply around 7% of the UK's electricity.
The company and ministers agreed a "strike price" of £92.50 for every megawatt hour - almost twice the current wholesale cost of electricity.
But this was called into question by the EU which is now looking into the matter.
In the Commons on Thursday, Mr Liddell-Grainger said: "Hinkley Point is massively important to this country, it will produce a massive amount of electricity, it is needed for the security of energy supplies.
"Could we please have time to debate this? It has to be pushed forward with fracking because if we don't we are going to have the lights going out in the future."
Last month, anti-nuclear campaigners held a protest against the power plant deal.
Anti-nuclear campaigner, Theo Simon from Stop Hinkley, said: "It is clear that Mr Grainger is panicking and he should be because he's hitched his political future to a project which, in my opinion, has got no future now."
EDF Energy is expected to restart its preparatory works in May after work was "on pause" since April 2013.