Combwich lake footpaths' six-year closure to continue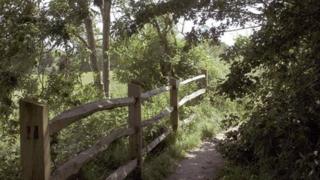 People in a Somerset village who want footpaths at a privately-owned lake to be re-opened have been told their six-year wait will continue.
Otterhampton Parish Council applied to make the lake paths in Combwich a right of way but the case has not been heard.
Parish council chairman Barry Leathwood, said: "Justice is being denied, people have had free access to the lakes for all their lives."
Somerset County Council said it had to prioritise its spending on social care.
Large backlog
A spokesman for the county council said: "Processing public rights of way orders is complex and time consuming as footpath users and landowners often take opposing views.
"There has also been an influx of applications in recent years leading to a large backlog of applications.
"We are working hard to reduce the backlog by prioritising each application according to the Rights of Way Improvement Plan, which can be seen on our website."
The lake is owned by Bridgwater Angling Association which closed access in 2007 without warning.
A public meeting held soon after the closure was attended by about 100 people in the village, which has a population of 800-1,000 people.
After failed negotiations with the angling club, the parish council made the rights of way application to the council - which took a year to complete.
In the application there were some 50 accounts from villagers who wanted access, including the testimony of a man who had used the area continuously since 1929 when the lakes were created from flooding the clay pits.
The association declined to comment on the matter.